"Getaway is a pager-turner with the resonance of Annie Proulx's The Shipping News . Unexpectedly nervy and resourceful, Cookie Wagner is my new favorite action hero, a good woman at the end of her rope. I started with Maureen Brady's riveting first sentence "Cookie dove between the tall grasses, jammed with adrenaline" and didn't stop reading until I got to the end of the book. Would make a terrific movie." Judith Podell ***** Amazon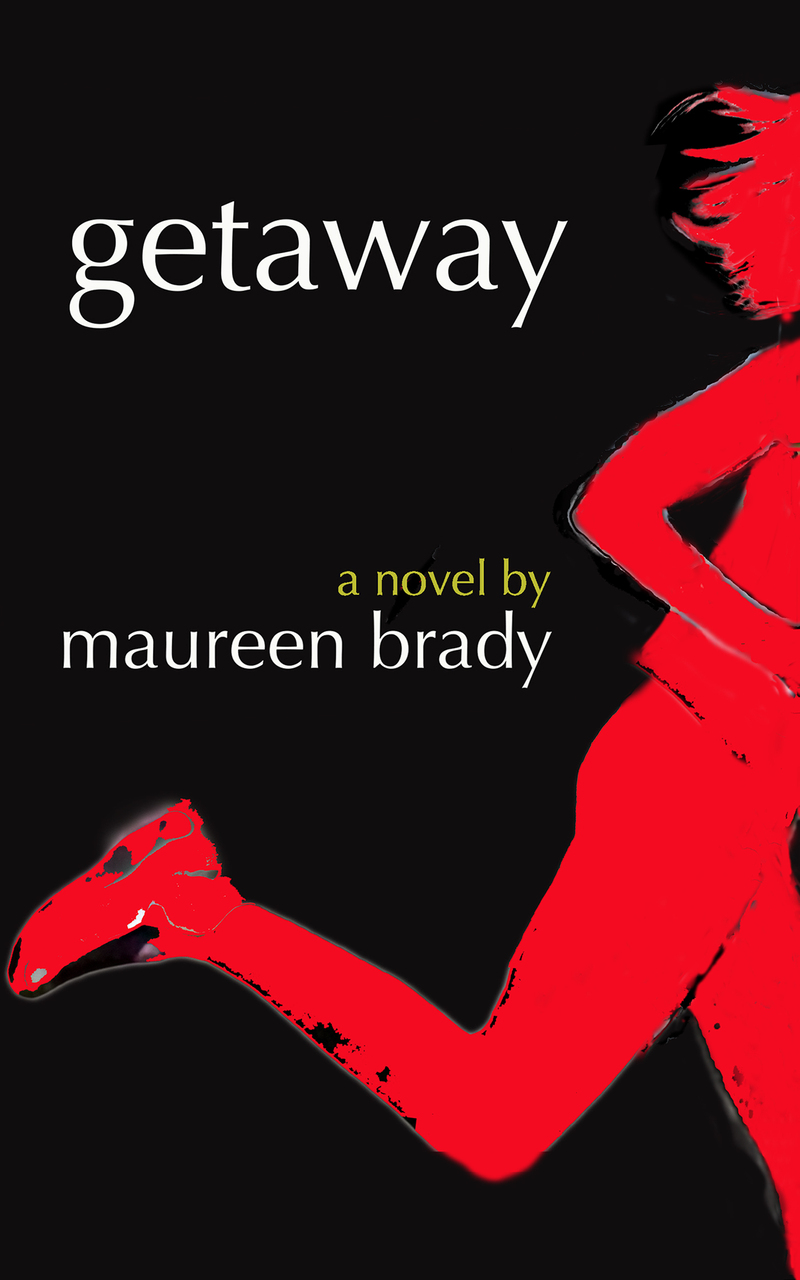 When Cookie Wagner stabs her abusive husband, she flees to remote Cape Breton, Nova Scotia. For a moment, she seems to have gotten away with murder. But, consigned to a secretive life with a new name and the need to be on constant alert, she faces all she has not gotten away with. She is helped by the recently widowed Mrs. Biddle, who offers her a place to stay, and the lobster fisherman Butch, who gives her a job and later falls in love with her. Walking the cliffs and beaches, taking in the scruffy windblown plants that survive the buffeting wind by growing at an angle, she begins to heal.

Yet, she cannot leave behind the notion that Warren is dead as the result of her action.
But is he? And if not, will he one day come to find her?

"Suspenseful pages jam-packed with action which carries the reader away into a different yet recognizable world, where likeable and believable characters will linger long in the mind after the book is closed."
- Sheila Kohler, author of ten novels, including Cracks and the memoir, Once We Were Sisters

"A tension-filled yet ultimately humane story about hard-won second chances. Warm and wise, Maureen Brady's GETAWAY takes the reader on a suspenseful and memorable journey to the tenderest corners of the human heart."
--Aaron Hamburger, author of The View from Stalin's Head and Faith for Beginners

"Sensitive, sensual, and stirring. Getaway is a true page-turner but one with heart and with context. I couldn't put it down until I got to the end, not just to find out what happened, but also to discover who these intriguing and complex characters would develop into. An extremely satisfying read!"
- Danielle Ofri, author of What Patients Say, What Doctors Hear, Editor-in-Chief, Bellevue Literary Review

"Maureen Brady's new novel, Getaway, explores wife abuse with surprising delicacy. Her upstate characters have grit and guts. . . . When did your sex last belong to you? is the question that drives the heroine's pell-mell flight all the way to Canada. A compelling read, especially for those who recognize that those whom we love can be the most dangerous."
- Terese Svoboda, author of five novels including Bohemian Girl
Maureen has over 20 years experience offering inspiring individual editing and mentoring services to writers in various stages of development. Working with both fiction and nonfiction, she takes writers to the next step, with sensitive but rigorous critique, and publishing advice when the manuscript is ready. (See bio and editing page for more)

"Maureen Brady provides an environment that is equal parts nurturing and challenging. Her attention to detail, five-star copy editing, and genuine enthusiasm for the written word have me coming back to her workshops year after year. Without her involvement, I doubt I would have found my way to publication!"
Janet Goss, Perfect on Paper, New American Library, 2012